GSE Equipment, Replacement Parts & Support
A.C.E.S., Inc. proudly offers a wide variety of FAA & ICAO Airport approved products, including full line airfield lighting, Runway/Taxiway signs, Intrusion Stop bars, Visual landing aid, replacement fixtures, primary/secondary connectors & cabling, transformers, Constant Current Regulators (CCR), light fixture cans & hardwares, Airfield Fixtures replacement parts, lamps and more. Airfield GSE products can be ordered for new installations or replacement parts and accessories, full line Crouse-Hinds and Safegate airport lighting products.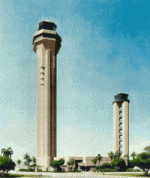 We also provide an extensive list of replacement parts for all major manufacturers of Passenger Boarding Bridge types Apron Drive (ADB), Fixed or Elevating Sliding Bridge (ESB) (Safegate, FMC Jetway, Wollard & Thyssen Stearns), we specialize in supplying hard to find, obsolete, re-engineered or machined, upgraded as well as refurbished spare parts & hardwares including replacement canopies all PBB manufacturers, Aircraft PCA hoses & adapters, 400 Hz aircraft power products, Water & Waste Water Management Products, Parks & Recreation Products, Power Generation & Lighting Products, Traffic Engineering Products, Pumps, Motors & Drives for all Industries. We offer solid or pneumatic Passenger Loading Bridge wheels, tires, tubes, new or remolds, electrical, electronic, hydraulic and electro-mechanical parts and equipments. We proudly represent Safegate Group and we service their products including Passenger Boarding Bridges and Aircraft Docking Guidance Systems "DGS" Safedock Type 2 & 3 as well as refurbish older loop sensor models Docking Guidance Systems,
County & City Services, Products, Equipments, Parts & Supplies
Distributors & Authorized Factory Re-Sellers of most Pumps, Motors, Drives manufacturers for all Industries including Water & Waste Water Management, Traffic Engineering, Power Generation and Testing Equipment and Supplies.

Shipping and Handling
Most products will ship within 24/48 hours, special orders shipping date will be confirmed with quotation or order, will be accurate and expedited.

We offer the following shipping methods:

UPS Ground/2nd Day/Overnight
FedEx Ground/Overnight
Air Freight & Ocean Freight quotes for large shipment

Payment terms
Payment Terms for established customers Net 15 or Net 30 payment term, New customers will be billed COD (Visa/Mastercard/American Express) or via Bank wire transfer, until credit is established.
We will require a 50% deposit for all special orders.